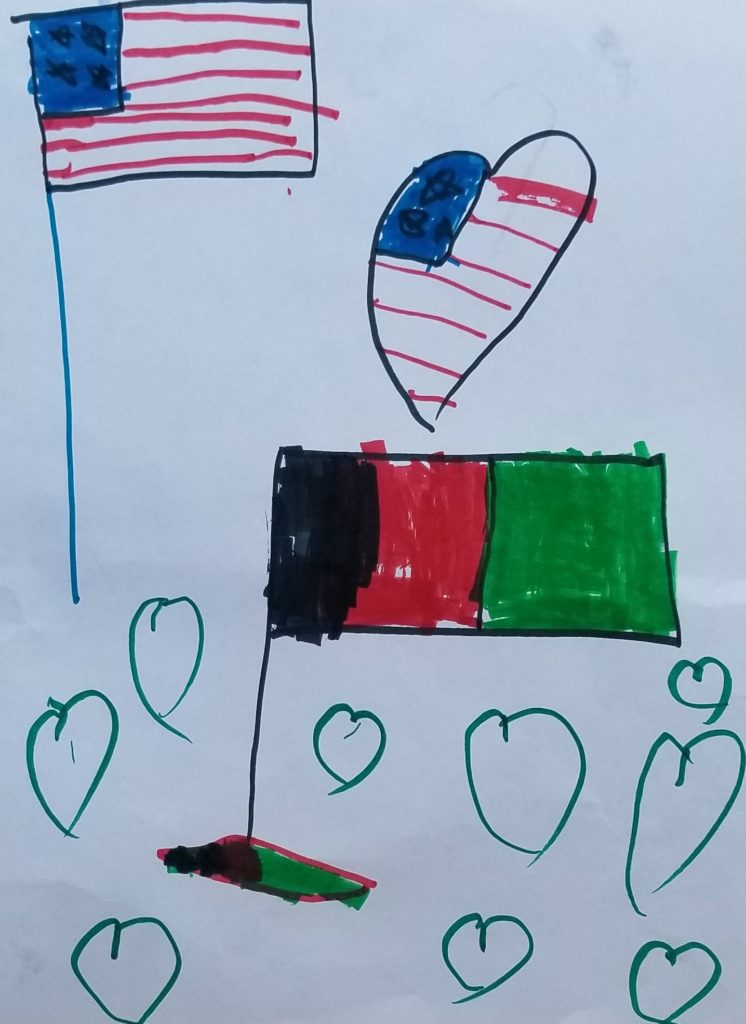 I was grateful for the opportunity to care for children on the base at Fort Bliss, TX/NM and serve families who fled Afghanistan at the end of the war, August 2021. This volunteer effort was a collaboration between Save the Children, Children's Disaster Services, Bruderhof, Latter Day Saints, and the United States Conference of Catholic Bishops (USCCB). Our teams served in 4 different humanitarian tents and offered morning and afternoon play sessions for infants, toddlers, and older children. We often reached the capacity of 80 people in these tents. While it was busy and usually loud, not only from children's voices but also the air conditioning system, we were able to build precious relationships of welcome for these children and the parents who accompanied them. I also served as part of the training team to work with staff who would stay after our teams had left to return home, 2 ½ months after this response began.
Impressions from the experience –
The Afghan people were always referred to as "guests". They were kind and helpful, eager to learn and share, playful, tired, anxious, and full of hope. Their bright smiles were truly heartwarming and seemed full of genuine connection. We also shared tears. So many tender experiences.
We learned words in Farsi/Dari and Pashto. The children loved seeing the cheat sheets we carried around. These young teachers eagerly answered all of our language questions. One little girl was so proud that she could speak 5 languages – Farsi, Pashto, English, Hindi, Spanish!
The children were always giving us gifts – yarn and bead bracelets, pipe cleaner rings and head bands, tissue paper hair bows, pictures they drew. When we tried to say they could keep them, they handed them back and said, "No, you!"
The children in the camp recognized our team as we walked through to our cars and tents. They waved with smiles, high fives, fist bumps, and sometimes hugs.
The land on the base was arid and dusty, with sand and stones making up the roads and paths. We were told that some children, especially early on, didn't realize they were in a different country because of similarities with Afghanistan.
The children and parents often drew pictures of the Afghan flag and the U.S. flag as an expression of connection. We saw these pictures over and over in all the tents.
Favorite toys included toy airplanes, balls/soccer, bubble play, kitchen play, drawing, and any type of craft. One afternoon I spent at least an hour with several boys playing in the toy kitchen. One of the boys who made me a stir fry of toy food (hot peppers, greens, tomato, carrots) said he liked to cook in Afghanistan.
Many families were large. Both mothers and fathers seemed so pleased to tell us which children were theirs. We heard of families who were separated from their own children during the evacuation and many stories of separation from grandparents. So much sadness and anxiety over these losses.
Many people expressed gratitude to us. After even a few moments of interaction, we would often get comments like, "You are so nice," or "Thank you very much."
One father played with me and his little girl. He said, "I told her you were her teacher." She said, "No, my grandma."
I showed one little boy how to draw on the chalkboard wall. He made a mark, looked at me, and giggled. Over and over, he would make a mark and then burst into giggles. A new experience – such joy!
The day we started the training for the transition, a young man with USCCB who had been in the training session, was a part of the infant toddler care team that day. At the end of his shift he said, "It was good to be in the training in the morning, and come in here and practice what we learned."
Each person on our team got at least one opportunity to be in the play space in the tent where families who were leaving the base gathered for their orientation to the outside world. It was really special to see families whom we had worked with come through this tent. They were eager to leave the base, but also had so many questions about their new homes, especially if they weren't meeting up with friends and family.
The hope of all of us who worked with these families is that they will find welcome and kindness wherever they go.